Excellent Chicken Recipes for Crock Pot Cooking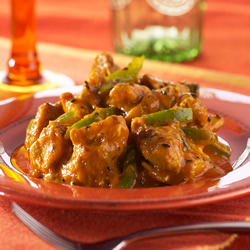 Chicken recipes are great to add to your repertoire of crock pot dinners. Not only is it an excellent meat to cook with but it is a healthy meat to use in your day-to-day cooking.
Most of the recipes listed below, suggest using boneless, skinless chicken breasts which are lean and do not add a lot of fat to your meal.
In fact, one chicken breast that has been baked only has 1.5 grams of fat and 120 calories. Meanwhile, it has 24 grams of protein, which is great! For more nutritional information on chicken please click here.


Chicken is an
easy meat to cook with
and it can be paired with so many different flavours!! As you will see, there are endless chicken recipes available for crock pot cooking.
Enjoy!
Cafe Chicken
Chicken Cacciatore
Chicken Fettucine
Chicken in BBQ Sauce
Chicken 'n' Olives
Chicken Parmesan
Chicken Parmigiana
Chicken Tarragon
Chicken Wings Appetizer
Crock Pot Chicken
Crock Pot Chicken and Cheddar Sauce
Crock Pot Chicken and Cherries
Fast Crock Pot Chicken with Mushrooms
Honey BBQ Chicken
Jerk Chicken
Lemon Chicken
Marinated Chicken
Smothered Chicken
Sweet and Sour Chicken