Chicken Parmesan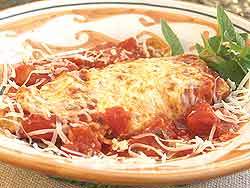 Ingredients:
6 boneless, skinless chick breasts
1 package of onion soup mix
2 cans of cream of mushroom soup
1 1/2 cups of skim milk
1 cup of white wine
1 cup of white rice
6 tsp of butter
6 tbsp of parmesan cheese
Directions:
Mix onion soup, mushroom soup, skim milk, wine and rice together. Spray crock pot with Pam. Lay chicken breasts in crock pot, top with 1 tsp of butter, pour on soup mixture and sprinkle with parmesan cheese. Cook on LOW for 8-10 hours or on HIGH for 4-6 hours.