Pulled Pork Fajita Recipe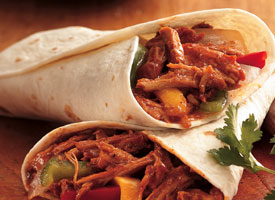 Ingredients:
2 1/2 lb boneless pork loin roast
1 thinly sliced medium onion
2 cups Incredible Barbecue Sauce
3/4 cup medium salsa
3 tbsp of chili powder
1 tbsp of Mexican seasoning
Flour tortillas
Directions:
Place pork in crock pot and arrange onions on top. In a separate bowl, mix Incredible Barbecue Sauce , salsa, chili powder and Mexican seasoning and pour over pork. Cover and cook on LOW for 8 to 10 hours or until pork is very tender.
Once cooked, remove pork and use 2 forks to pull pork into shreds. Pour sauce into bowl and stir in pork. Spoon pork filling onto tortillas, roll up and ENJOY!