Incredible Barbecue Sauce for your beef recipes.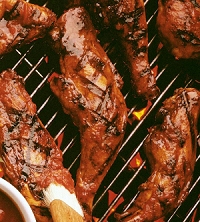 2 tbs of olive oil
1 sweet onion chopped
2 tbs of minced garlic
1 can of crushed tomatoes
1 can of beer
1/2 cup of ketchup
1/4 cup of honey
1/4 cup of Worcestershire sauce
2 tbsp of hot sauce OR 2 jalapeno peppers chopped
1 bay leaf
1 tsp of crushed red pepper flakes
1 tsp of thyme
2 tbsp of lemon juice
Directions:
Place some oil in a large sauté pan and add onion and garlic to sauté until golden brown. Add the rest of the ingredients and bring to a rolling boil. Once boiling, lower heat and simmer for 35 minutes.