Italian Spaghetti Sauce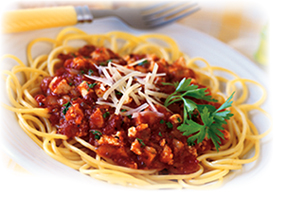 Ingredients:
1 pound of ground beef
1/2 pound of Italian sausage
1 cup of chopped onions
2 cloves of garlic
1 can of Italian roma tomatoes
1 can of tomato paste
8 ounces of chopped mushrooms
1 cup of chopped green pepper
4 tbsp of quick-cooking tapioca
2 bay leaves
1 tsp of dried oregano
1/2 tsp of basil
Salt and pepper to taste
Directions:
Cook ground beef in large skillet over high heat until browned with onions and garlic. Drain well. Place beef and remaining ingredients into crockpot. Cook on LOW for 10 hours or HIGH for 5 hours.
Remove bay leaves and serve over spahetti.