Crock Pot Rice Pudding Recipe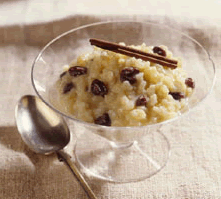 Ingredients:
1 1/2 cup of cooked white rice
16 oz of Half and Half or light cream
3/4 cup of dark raisins
3 eggs
1/2 tsp of nutmeg
2/3 cup of sugar
2 tsp of vanilla
Directions:
Grease crock pot with butter. In a seperate bowl, beat Half and Half, eggs, sugar & vanilla. Stir in rice and raisins, mix well. Pour mixture into crock pot. Sprinkle nutmeg on top.
Cook on HIGH for 30 minutes.