Slow Poke Pudding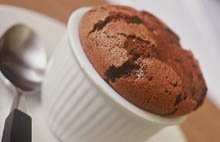 Ingredients:
1 package of brownie mix
1/2 cup of water + an additional 4 cups of hot water
1 egg
1 cup of milk chocolate chips
1 cup walnuts
20 unwrapped caramel candies
Vanilla ice cream
Butter
Directions:
Place a small rack in the bottom of crock pot. Homestyle Recipes would recommend investing in a crock pot with a removeable rack that is dishwasher safe. This rack is quite an asset. It is versatile and useful for desserts similar to this one and cooking roast and whole chickens as well.
Pour in 4 cups of hot water and turn on to HIGH.
In a seperate bowl, combine brownie mix, 1/2 cup of water, oil and egg; mix well. Stir in the chocolate chips and walnuts.
Butter and dust with sugar a 2-quart soufflé dish that fits in the slow-cooker. Pour the brownie batter into the soufflé dish. Push the caramels half way into the brownie mix, do not bury completely in the brownie mix. Wrap the dish in a double thickness of foil. Tie with a string to use as a handle for lowering and raising out of the crockpot.
Cover and cook on high for 4.5 hours. Remove the dish and let set for 30 minutes before serving. Serve with whipped cream or vanilla ice cream with chocolate hot fudge sauce.