Crock Pot Peach Cobbler Recipe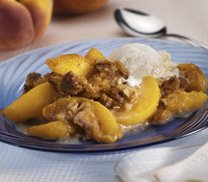 Ingredients:
3/4 cup of all-purpose baking mix
1/3 cup of sugar
1/2 cup of brown sugar
1/2 can of evaporated milk
2 tsp of melted butter or margarine
2 eggs
3 large, ripe, mashed peaches
2 tsp of vanilla
3/4 tsp of cinnamon
Directions:
Lightly coat crock pot with non-stick cooking spray. In a seperate bowl, combine sugar, baking mix, eggs and vanilla. Mix in margarine/butter and milk. Finally, add peaches and cinnamon, make sure to incorporate fully. Pour entire mixture into crock pot.
Cook on LOW for 6-8 hours or HIGH for 3-4 hours. Serve warm on top of vanilla ice cream.