Triple Chocolate Dessert Recipe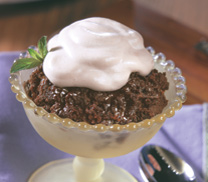 Ingredients:
1 package of chocolate cake mix
1 pint of sour cream
1 package of chocolate pudding
1 bag of chocolate chips
3/4 cup of oil
4 eggs
1 cup of water
Directions:
Spray crock pot with non-stick spray. In a serperate bowl, mix all ingredients well and pour into crock pot.
Cook on LOW for 4-5 hours.