Crock Pot Bananas Foster
Bananas Foster is mouth watering, creamy and delicious. These are just some words to describe the traditional treat. This classic dessert is not new to the block, it was actually created in 1951.
In the 1950's, New Orleans was the major port of entry for bananas shipped from Central and South America. The owner of New Orleans' Brennan's Restaurant challenged his head chef Paul Blange to include the local fruit in their dessert menu. And in 1951, he succeeded in creating this delicious banana dessert.
The scrumptious Bananas Foster was actually named after Richard Foster, a chairman on the New Orleans Crime Commission, who was a good friend of the owner and a frequent patron of the restaurant. Little did anyone know that this local banana dessert would become known internationally.
Since then, there have been many modifications to Bananas Foster, including this recipe I've included for crock pot cooking. I hope you enjoy this classic dessert, turned crock pot dessert, as much as I do!
One of my favorite things is to a generous scoop of good quality Vanilla ice cream for an extra kick of sweetness.
I hope you enjoy!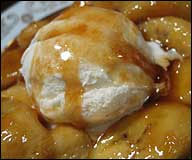 Ingredients:
1/2 cup of margarine or butter
1/4 cup of brown sugar
6 bananas cut into 1 inch slices
1/4 cup of rum
Vanilla ice cream
Directions:
Melt margarine/butter in crock pot by turning to LOW. Mix in brown sugar when margarine/butter is melted. Gently stir in bananas and rum.
Cook on LOW for 1 hour. Spoon vanilla ice cream over bananas foster and serve.
---
If you like this recipe and would like more crock pot recipes, please sign up for my free monthly newsletter: Crock Pot Corner. Please check it out!