Apple Glazed Pork Loin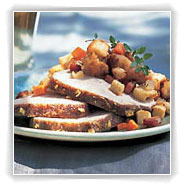 Ingredients:
4 boneless pork loin chops
6 spy apples that are cored, peeled and quartered
1/4 cup of apple juice
3 tbsp of quick-cook tapioca which is used as a thickener
3 tbsp of packed brown sugar
1 tsp of allspice salt and pepper
Directions:
Place spy apples at the bottom of the crock pot. With a meat mallet, pound loin chops until they are a 1/4" thick and place on top of apples. Mix allspice, salt, pepper and tapioca together and sprinkle over loin chops. In a seperate bowl, combine remaining ingredients and pour over chops. Cook on LOW for 7-10 hours.